PDO Multi Thread for Skin Tightening
If you would like to reverse the signs of ageing to your face, a `non-surgical face lift` called the Thread Lift may well be the best possible option outside surgery. This treatment uses absorbable Aesthetic Lifting Thread to lift and rejuvenate your facial skin, resulting in a fresh and youthful appearance. The Face Thread Lifting treatment repositions sagging skin, providing definition and contouring . Four to six weeks post treatment a regenerative action kicks in, increasing oxygen supply to the cells and stimulating collagen and elastin production for up to 8 months.
The material from which these v soft Thread Lift is made, PDO (Polydioxanone), is a safe substance that keeps the skin in its new tightened state for 4-6months, whilst ultra v thread lift also synthesizing new collagen production. The lasting result of v contour thread lift will provide the skin with a fresh, well rested and firmer look whilst supporting new collagen formation for long lasting results.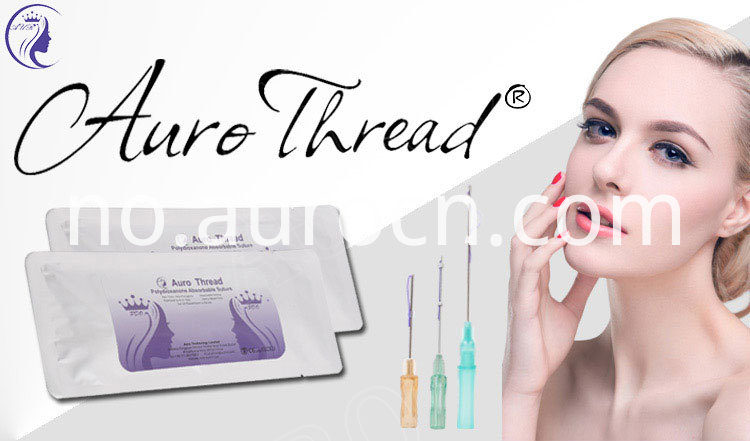 The great thing about a PDO Thread Cog 3d is that it offers quick recovery together with excellent results. This Nose Shaping L Needle procedure requires a minimum amount of non-invasive surgery and leaves no scarring. Local anaesthetic is all that is needed and there is no hospital stay either. Another good factor about the thread lift is that it is much more affordable than a regular face lift, and the results are long lasting.If you are looking for a quick and effective solution to a range of aging problems then a Multi Thread Lift PDO is the perfect solution.
process of Absorbable Pdo thread lifting:
1. Skin aging results in loose, wrinkled skin lacking in elastin and collagen.
2. Polydioxanone Absorbable Sutures(PDO Thread) are placed in the precise layer of the skin.
3. The threads stimulate your skin to produce collagen around them.
4.The threads, together with the collagen produced, create a skin tightening and lifting effect.

PDO Thread Lift with cannula uses a blunt cannula (a very thin tube with a rounded tip) instead of a needle because of the 3 significant benefits:
1. Minimized Trauma using a PDO blunt cannula for PDO thread insertion is minimizes the risk for tissue trauma. A cannula is also longer and more flexible than a needle, so it is easier for the doctor to find clear pathways through tissues with just a single entry point.
2. Reduced Risk for Complications and Adverse Effects Because needles can easily pierce through the skin and underlying tissues, it is very likely that it can damage blood vessels, too. In contrast, blunt-tip cannulas are safer to use because they simply push through the skin`s structure and move around blood vessels without damaging them, reducing risk for complications such as bleeding, pain, and infection.
3. Enhanced and Immediate Results Since cannulas are more flexible than needles, the end result of a PDO cog thread lift using a cannula is significantly smoother and more natural-looking. The effect is a gentle and immediate lift as the blunt-tipped cannulas allow for more accurate PDO thread insertion.
PDO Cogs thread have multidirectional barbs which fix and support the skin tissue in various directions and are excellent for non-surgical thread face lift treatments. PDO Thread Cog 3D, PDO Thread Cog 4D, Blunt Cannula Cog thread are all available to us. The barb 3D thread is with 3-dimension cogs and the new 4D threads are stronger and thicker, offering better grip due to the 4-dimension cogs.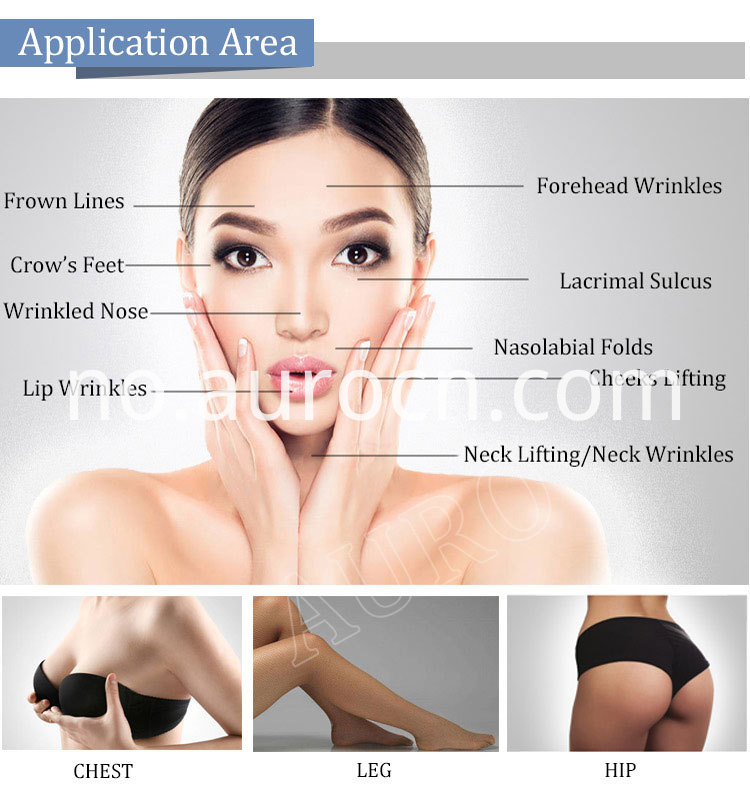 Application:
Auro Thread is a thread with no cones, so Eye Thread Mono is no damage to the tissue and it is very safe. Aging causes the skin tissue to be thin because the collagen and elastin fibers break down, which results in sagging skin, deep creases, folds and wrinkles. Molding Thread PCL reverses the effects of aging.
At first make small 1-2mm incisions at various points on the face. And then insert the hollow needle into the skin to put the threads in place. Attach the PDO Thread to the fat underneath the skin, then be adjusted to tighten and smooth the contours of face. At last, trim the excess threads .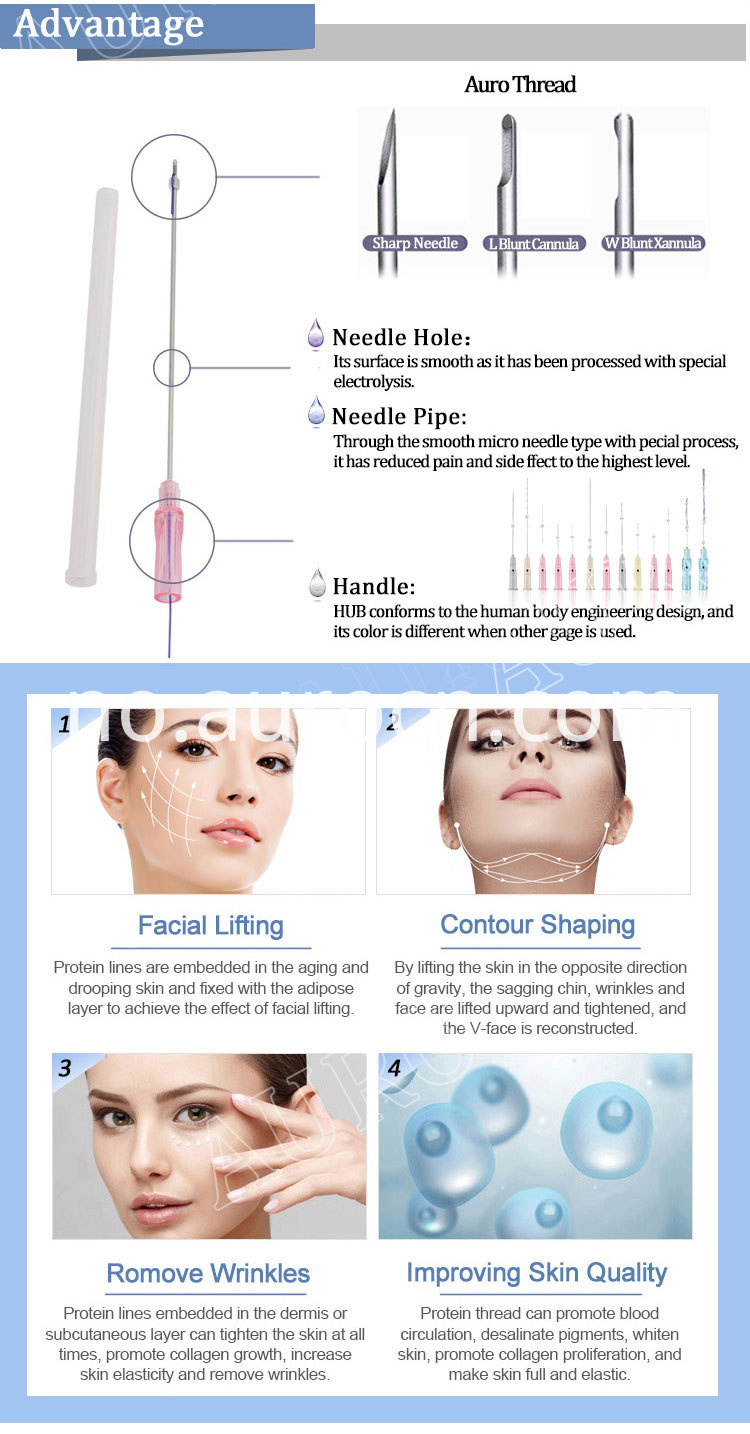 Effects:
For Sagging Facial Skin : It stimulate SMAS layer to tighten the slacking skin and simultaneously promotes regeneration of the skin to activate generation of skin proteins ( Collagen , Elastin).
For Facial Wrinkles : By the strong Dissolvable Thread Lift effect , skin regeneration and termination of line adhension , it is very effective to resolve deep wrinkle, wrinkles, forehead wrinkles, crow's feet.
For Neck Wrinkles : It stops the wrinkle adhesion around the neck mostly developed by aging to rejuvenate skin by pdo thread lift and skin regeneration .
For V Line : By strong SMAS layer lifting effects with medical threads, it will provide natural V line without saggy skin.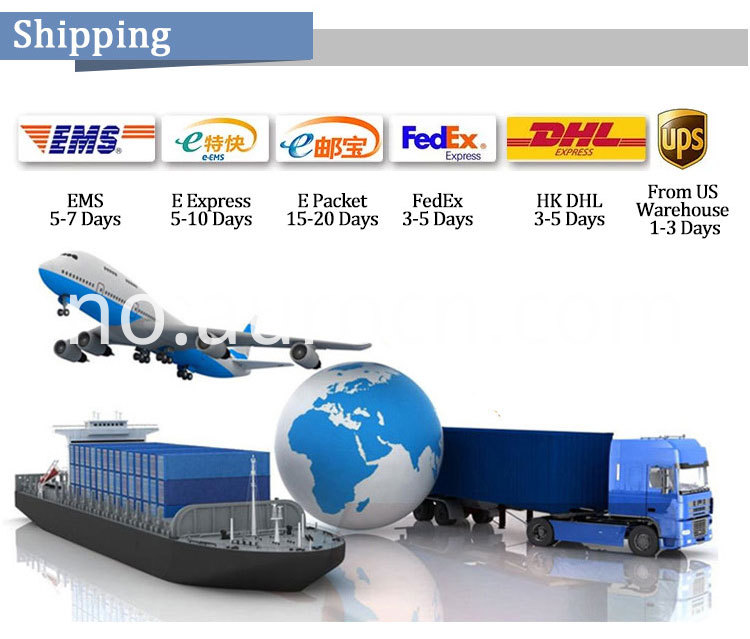 Company
Auro technology Limited is professional in aesthetic medical technologies. The company sells its products under three distinct series: Auro Thread PDO, Auro Secret Dermal Filler and Blunt Cannulas.
Auro technology enables physicians to provide excellent solutions for a broad range of medical-aesthetic applications including face and body reshaping, resurfacing skin, eliminating fine lines or wrinkes treating scras, or removing unwated hair. We`ve built in the easy of use, versatility, intuitiveness and value that allow physicians to do what they do best.
Every thing we do is only for helping you to purchase the high quality beauty equipment for the health of you and your clients. We believe only in this way can maintain our partnership and keep in win win situation. We always keep challenging to build our products in safe and easy to use, and then to make our customers feel affinity. All of these turn out to be high quality products.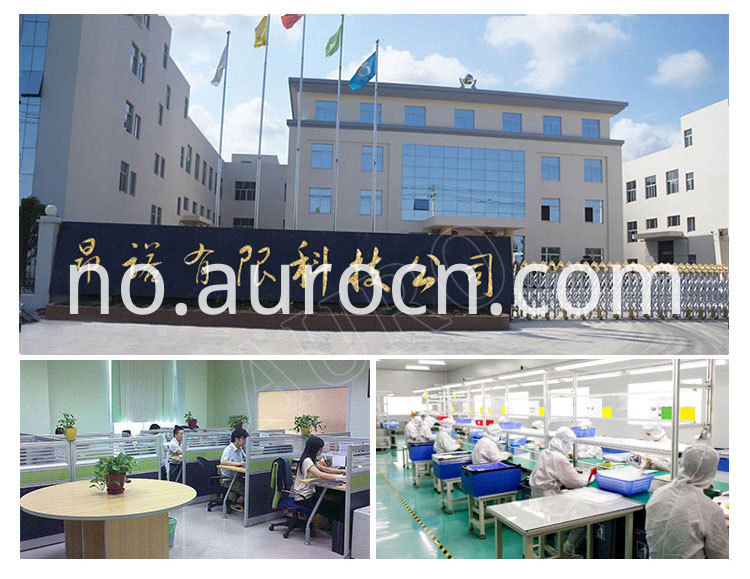 Produkt kategorier : PDO-tråden > PDO tråd ansiktsløftning